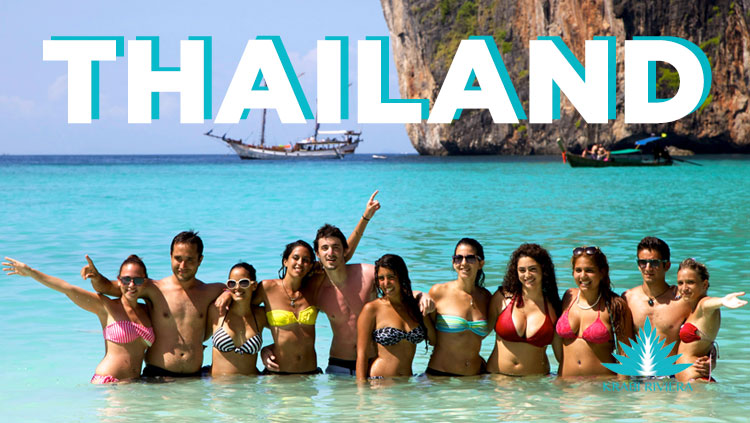 Asian booming middle class choosing Thailand for holiday destination
Asia's booming middle class, with a myriad of choices from which to choose, is opting for Thailand as one of its major holiday destinations. Even with the world facing economic, health, and Middle East concerns, travel and tourism to Thailand is showing robust signs of growth.
Much of this is attributed to a shift in demographics, a fast-growing Asian middle glass, Asia's huge population base, and the trend for online travel booking that is bringing more international travelers to Thailand. Additionally, visitors from Asian countries continue to show a positive trend because of regional political stability.

Pierre Yves Loriers, Managing Director of Krabi Riviera Villas Co., Ltd., in Thailand said, "We intend to tap Asia's fast-growing middle-class segment, as we study people's changing lifestyle trends. The trends show more leisure travel, especially among the younger generation."

In response to these trends, Krabi Riviera Company recently completed six new luxury villas and they are expecting a record-breaking high season for 2014 and 2015.

Southeast Asia Tourism Forecast

According to the World Tourism Organization UNWTO, international tourism grew by 4.6% worldwide in 2013, with the Americas leading the growth at +6%, and Asia and the Pacific following close behind with a projected +5% increase. Southeast Asia is poised to experience the fastest growth, with a predicted 8% increase in 2014.
Industry experts believe more and more travelers will come from China, Indonesia, the Philippines, and India, rather than from past traditional markets such as Europe. They also note that Thailand's economic growth is drawing a great deal of interest from local and foreign investors.
Because the economy is strong in Thailand and in other Asian countries, investors from within and without Asia are investing in these areas. As business in the region is grows, Asia's future economic forecast continues to look very rosy.
"In order for Thailand to continue to expand their reach to regional tourism, it is very important that business leaders maintain their competitive edge," Loriers stated. "For this to happen," Loriers continued, "the tourism industry has to understand and meet the unique needs of these travelers."

Airline Companies Responding to Travelers Demands

The airline industry is showing a willingness to in meet the demands of regional travelers to Thailand, by increasing the number of round-trip routes and flights.
AirAsia recently announced a new route connecting mainland China with Krabi, with flights originating in Guangzhou. This is in addition to flights they've already added connecting Krabi to Singapore and Chiang Mai. Finnair is scheduling flights to Krabi, and Malaysian airlines Firelfly is doing the same.
Other airlines providing direct round-trip flights to Krabi from other locations include Tiger Airways, AirAsia, Malaysia Airways, and Bangkok Airways.
The increasing tourism investment in Thailand continues. With the long term forecast predicting that Thailand will experience one of the fastest growing tourist economies, industry professionals are showing keen interest in the developments.
---