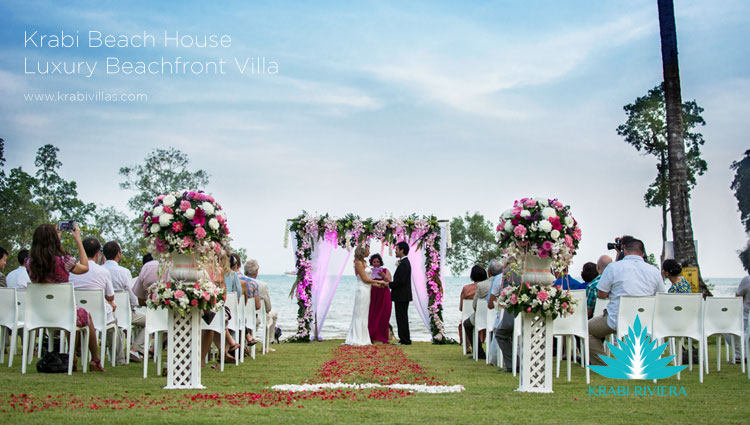 Choose a Krabi, Thailand wedding ceremony and package for your special day
If you have made the decision to get married in Krabi, Thailand, you can choose from a plethora of wedding ceremonies and packages for your special day. Whether you choose a religious ceremony or a secular one, there are top-rated companies that will take care of all the details and create the wedding of your dreams.
Types of Marriage Ceremonies in Krabi, Thailand


No matter what your religion, spiritual inclination, or philosophy you will be able to find the type of marriage ceremony in Krabi, Thailand that feels right for you and your significant other. You can choose from the following or talk to a wedding planning company to arrange for whatever type of ceremony you would like.
A Protestant wedding
A Catholic wedding
A Muslim wedding
A Thai wedding
A western secular wedding
A Buddhist wedding
A Thai/Western wedding
Marriage renewal ceremonies
Package Weddings in Krabi, Thailand

Wedding planners that provide package weddings in Krabi, Thailand will give you free rein in decision-making. While they handle all the details, you can write your own vows, choose special readings that appeal to you, choose your own music, and determine the physical specifics of the wedding ceremony itself.


Wedding packages usually include all the flowers, hair styling, make-up, photographer, round trip transfer from where you are staying, decorations, ceremony site set-up, CD player, a meeting with whomever is conducting the service, a marriage certificate, drinking water and a donation to the church or temple, if applicable. Specific services will dictate other inclusions.
Let Krabi Riviera Villas Help Plan Your Wedding


An excellent choice of where to stay when getting married in Krabi is at one of the private villas owned by Krabi Riviera Luxury Villas & House Rentals.. Not only do they offer luxurious accommodations, but they also can recommend wedding planning companies that are reputable and experienced.
Krabi Riviera Villas offer houses that will accommodate from 2 - 12 people. Their villas are also perfect for a honeymooning couple, or for a post-wedding celebration.
Most villas have their own private saltwater pool, with surrounding gardens and patios. The interior provides beautiful and spacious living areas, with all the amenities (including Wi-Fi and international cable TV). Villas are located on a private beach or in a quiet and safe residential area. A concierge is available 24/7 to help with the needs of their guests.
---