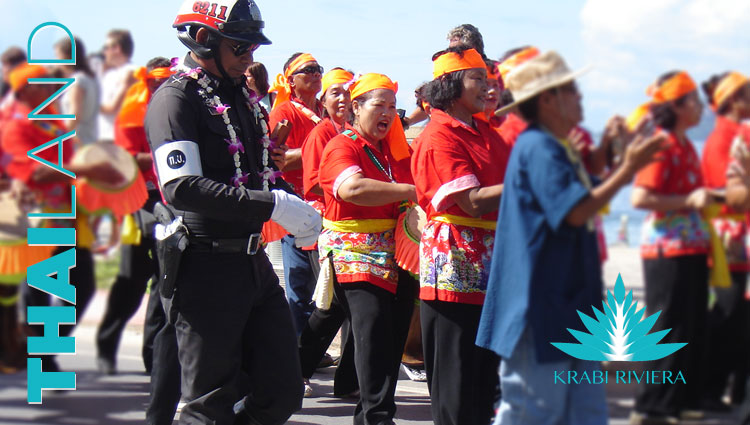 Experience the Songkran Festival and expect to get wet
This year's Songkran Festival, also known as the Thai New Year, or the Water Throwing Festival, begins on April 13, and concludes on April 15. It marks the beginning of spring and the solar calendar, when the sun crosses the equator. It is the celebration of the vernal equinox, similar to the Indian Holi Festival, the Chinese Ching Ming, and the Christian Festival of Easter.
Songkran is a Sanskrit word defined as the entry of the sun into any sign of the Zodiac. In days of yore, Songkran marked the time of year when the rice harvest was done and the farmers were waiting for the rainy season to begin so they could plant their rice again.
The Buddhist holiday is equated with the cleansing and purification of self for the beginning of the new year. It is a time for reflection and an opportunity to show respect to family elders. On the first day of the holiday, there is a ceremony called Rot Nam Dam Hua, in which the younger members of the household wash the hands of their elders in scented water, and ask for forgiveness. Women clean their houses for good luck, and those that can afford it, buy new clothes.
Songkran is also a time for family reunions and time spent at the temples making merit. At the temples, people gently pour scented water over the images of Buddha.
For most, however, Songkran is a time of excitement and fun, where throwing water at anything and everything is a major activity. In some places, a line of pickup trucks loaded with water, splash passersby, usually those who are lined up to get wet. The spectators shoot back with anything from small water guns to a pumping water rifles. The revelers will also target the police, who take it all in good fun. No one is exempt, and people should expect to get wet by children and adults alike.
When you do go outside during Songkran, take the following precautions:
Choose your clothing carefully. You don't want any expensive clothing being ruined.
Leave your cameras (unless waterproof) behind.
Do not take your cell phone with you.
Avoid driving any vehicle. The roads are wet and crowded. If you try to go somewhere by motorbike, car, or public transportation, be prepared to proceed at a snail's pace.
Bring plenty of sunscreen. You will need to reapply it several times.
If you don't want to get wet, the best advice is stay indoors!
Happy Songkran to All!
---