Fantastic review on Airbnb from our guest 慧玲
Considering and caring host. Well communicated with Chinese speaking staff Haliya before our arrival, she answered all of our question on time. We being warmly welcome by her even it was her day off on our arrival date, and she helped us to know about all information about every tour, and all the detail about villa, very considerable.
Secondly our flight landed in Krabi at 4am and villa standart check in time is at 2pm, the host arranged airport pick up service for us also prepared one villa for rest and stand by till the villa that we booked ready to check in, all these service are complimentary free service.
Apart from that, they provided us one villa phone to contact our villa manager Sara for free in anytime (Sara speaks fluently English and she is really considering woman) we also had unlimited complimentary tuk tuk taxi service from 9am to 10pm during our stay. Villa is really big and nice and is exactly same as on the picture and there is a private pool in the villa, it's very clean, we had lots of fun.
-- original in Chinese --
是拥有非常贴心服务的房东。首先,入住前的沟通就非常到位,因为有会说中文的员工哈里亚,她对于我们所有的疑问有问必答,而且很热情地帮助我们了解所租的房子以及周边的一切,我们到达的那天是她的休息日,她也来别墅欢迎我们,并且在我们咨询游玩项目时给我们做很好的翻译,非常周到!其次,因为我们的航班比较尴尬,凌晨四点半到达甲米,而正常入住要下午两点,贴心的房东安排了司机接机后把我们带到另一个住处,以便休息调整(全部免费),然后下午两点接我们去别墅入住。另外,别墅提供了一台小手机可以随时联络管家Sara (英语流利,有求必应的好管家)还有车可以免费接送我们在方圆三公里的区域内出进,很方便。整个别墅很大,层高也很高,与图片介绍的差不多,泳池让大家玩得都很开心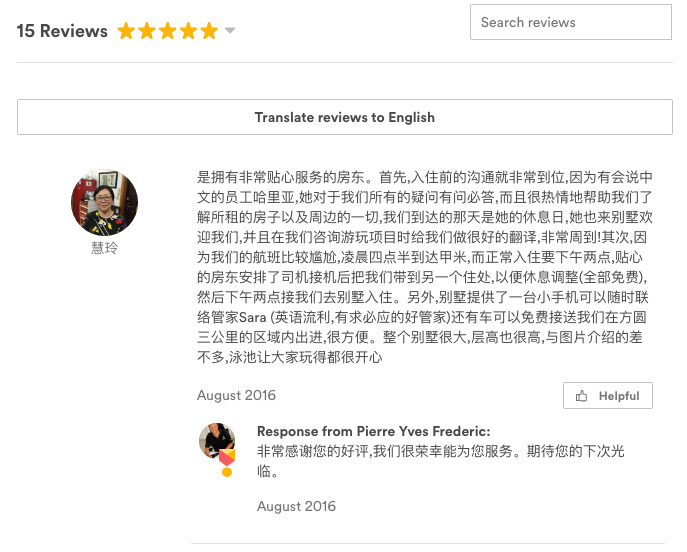 ---