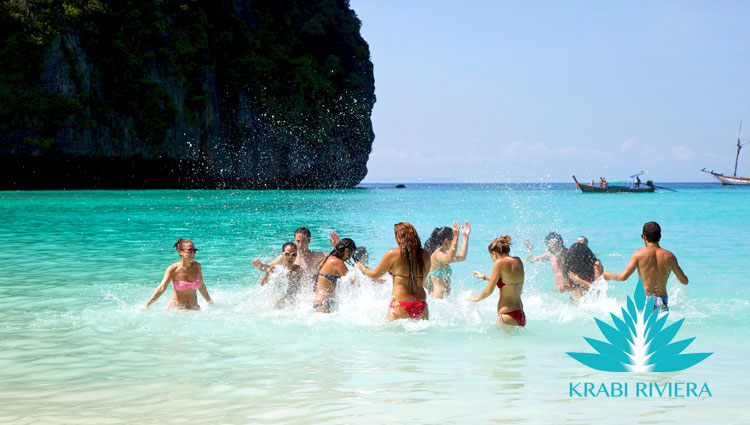 Loving Andaman Sea
The 'Loving Andaman Sea' Initiative Celebrates its 3rd Anniversary at Ao Nang Beach
Krabi Riviera Co Ltd is delighted to sponsor an event that will take place on Ao Nang beach on 12 November 2013. To celebrate the 3rd anniversary of the 'Loving Andaman Sea' initiative, a clean-up operation will be held to ensure that Ao Nang beach continues to look its best, followed by a barefoot one mile race along this beautiful stretch of the Krabi coast.
As one of Krabi's leading providers of holiday accommodation, it is little wonder that Krabi Riviera Co Ltd is keen to support such a worthwhile event. Instigated by locals taking pride in their beautiful surroundings, the 'Loving Andaman Sea' initiative does much to keep this stunning area clean and tidy.
Southern Thailand is immensely popular with tourists who flock to the region each year to enjoy the delightful beaches and impressive scenery. However, it is an unfortunate fact that some visitors discard litter and do not always consider the damage this can have on the environment. Consequently, locals and volunteers have united to tackle the problem, and the 3rd anniversary event will enable them to raise awareness of the 'Loving Andaman Sea' initiative, together with having some fun in the form of a barefoot race along Ao Nang's beautiful beach. The clean-up operation will begin at 2pm on 12 November, and the race will commence three hours later at 5pm. Those wishing to participate in the race will need to register in advance, together with paying the registration fee, which is just 200 thb for adults and 100 thb for children under the age of 12. To create an exciting and competitive atmosphere, trophies and cash prizes will be awarded for those in 1st, 2nd and 3rd place, together with trophies being awarded for the under-12s and over-60s categories.
Ao Nang beach is the perfect destination for the event. The beach is a broad, palm-lined stretch of sand that is bordered by an impressive limestone rock-face at its southern end. It is acknowledged as one of the finest beaches in the world, and its visitors can expect to enjoy some dramatic coastal scenery as well as stunning panoramic views across the sparkling Andaman Sea. What's more, at the end of a busy day exploring this beautiful area, Ao Nang beach provides the ideal spot for holidaymakers to view a spectacular sunset. Clearly, such a destination deserves care and attention so that it may continue to be enjoyed for years to come.
Krabi Riviera is pleased to support this event due to its own dedication to the success of Krabi's tourism industry. The company manages a notable portfolio of holiday villas in the Ao Nang area, and only those properties meeting a high standard of style and comfort are included in their portfolio. For instance, all the villas have an excellent specification, with designer kitchens, luxurious bathrooms and private swimming pools.
With local pride being channelled into positive action that aims to keep Krabi tidy, it seems this beautiful province is in safe and caring hands.
Written by: Pierre Yves Loriers
---