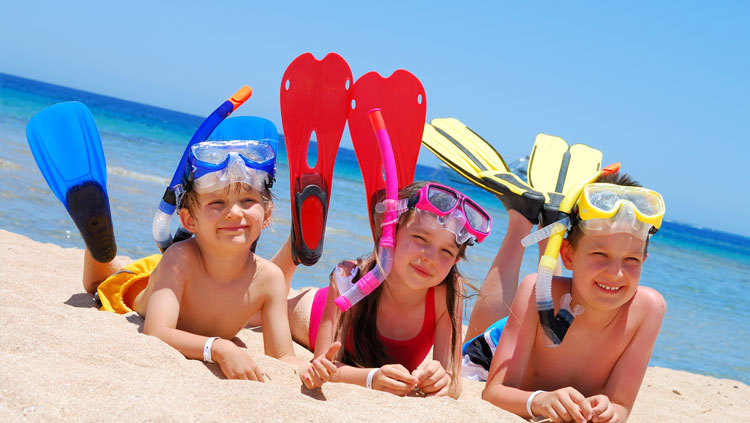 Packing for babies and small children when traveling to Krabi, Thailand
Here are a few suggestions regarding packing for babies and small children when traveling to Krabi, Thailand. Knowing in advance what to pack will make your trip more pleasant; however, don't worry if you forget something. You can find almost everything you will need for your children in Krabi.

Packing Suggestions for Babies and Toddlers
Krabi is a wonderful place to travel with your children, so here are a few suggestions on what to pack for them. These items can also be purchased in Krabi.
Hats for sun protection
DEET-free insect repellent
Cotton clothing
Baby carrier or sling
Sun hood or parasol for a buggy
Mosquito netting for buggy
Baby wipes
Baby powder, lotion and soap
Powdered baby formula (Krabi has many known brands, including those made from soy)
Bottles, nipples, and bottle brushes
Anti-bacterial gel
The following cannot be purchased in Krabi, and it is strongly advisable that you pack these items.
Teething gel
High-factor sunscreen specifically for children
Swimming nappies/diapers (regular ones are available)
Prepared baby food (although many restaurants will make a meal consisting of over-cooked rice, with shredded fish, veggies, or chicken upon request)
Sterilizing tabs or liquid, such as Milton
Organic baby gels, lotions, creams, and powder
If you run out of something, you can buy it in Krabi, so try not to over pack. Ao Nang has several stores carrying baby products. You can find what you need at Ocean Mart, Tesco, and 7-11 stores. In Krabi Town, Tesco Lotus and/or Boots Chemist are your best bets.

Krabi Riviera Villas in Krabi, Thailand Offer Perfect Family Vacation Homes

You can feel safe and right at home with your infants or toddlers at Krabi Riviera Villas in Krabi, Thailand. They cater to families with small children with high chairs and cribs on site. If you haven't brought a car seat with you, they can arrange for one.
Equipped with DVD players, Wi-Fi connectivity, and international cable TV, families can enjoy in-home entertainment. You can prepare whatever food your baby needs in your villa's fully equipped kitchen.
Outside the villa, families delight in the beautiful gardens and patio. Most come with saltwater swimming pools, and some with shallow water. There is on-site security 24/7, and all villas are surrounded with an attractive security fence.
Should you need to run to town for something, the concierge will take you there with the property's tuk-tuk service. The staff can also arrange for any tours or excursions you and your family may wish to take.
To view vacation rental homes offered by Krabi Riviera Villas throughout Krabi, Thailand, visit Thailand vacation villas.
---