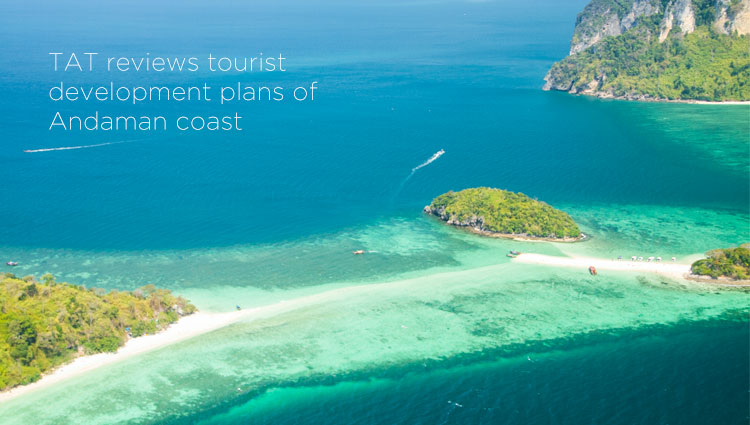 TAT reviews tourist development plans of Andaman coast
The Tourism Authority of Thailand (TAT) recently met in Phuket with representatives of the region's tourist industry to review plans for boosting Andaman coast tourism. The TAT conferred with 150 local operators and tourism associations, to listen to issues affecting tourism in Krabi, Phuket and Phang Nga.


All agreed that a master plan was needed to upgrade the South's infrastructure and energy resources, in order to keep the region on the international tourism radar. Improvements are needed for roads, public transportation, law enforcement, environmental issues, and management of beaches, wastewater, and garbage systems.


Proposed Plans for Boosting Tourism in Krabi, Phuket and Phang Nga

The TAT proposes to combine Krabi, Phuket, and Phang Nga into one regional grouping for both improvements and tourism marketing.


Kalin Sarasin, the TAT board chairman, said Krabi should be presented as a destination representing Thailand's traditional culture. He believes Phuket could be promoted by highlighting its existing strengths. Phang Nga, he thought, could be turned into a natural site, with its natural resources protected by possibly limiting the number of visitors.


Thawatchai Arunyik, Governor of the TAT, presented other ideas. He suggested the area could promote itself as a wedding destination and a celebrity hotspot. He stated the agency would like to host several international events in Phuket during the low season to attract more visitors to the region.


Suchart Hirankonokkul, a past president of the Thai Hotels Association's Southern Chapter, noted that even though Bangkok's tourism is down this year due to political tensions, tourism in Krabi, Phuket and Khao Lak in Phang Nga are enjoying an international increase in visitors. He feels it is essential to make the trip from Bangkok shorter for travelers by investing in better roads and better public transport.


Suchart also noted that the airports in Krabi and Phuket continue to expand, which will result in bringing more tourists directly to the region. There is also an increase in the number of direct flights to Krabi scheduled from China and other Asian nations. Therefore, improvements to infrastructure, electric power, facilities, and public safety are of paramount importance.


Kalin said the board would present its final plan to the Tourism and Sports Ministry by the end of February and present it to the government before the end of this quarter.
---