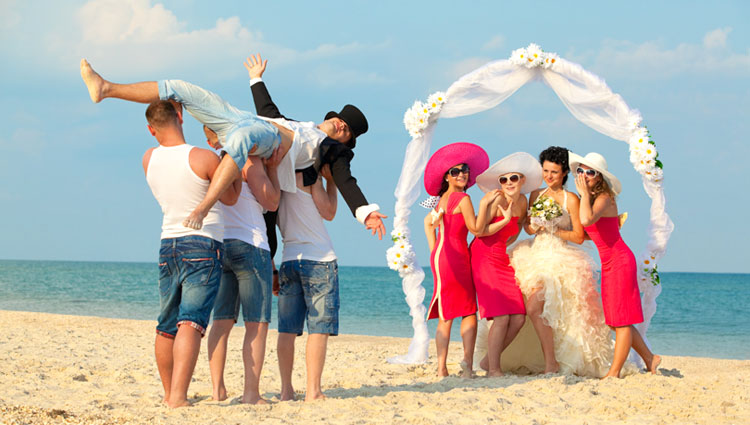 The Tourism Authority of Thailand Promotes
Weddings and Honeymoons at the World Travel Market 2013
As a leading provider of holiday accommodation in Southern Thailand, Krabi Riviera Co Ltd is delighted to support the Tourism Authority of Thailand (TAT) in its efforts to promote this beautiful country. TAT is currently spotlighting Thailand as the perfect wedding and honeymoon destination, and this became the theme for TAT's participation at the recent World Travel Market in London.
This is the 34th year in which Thailand has participated in the World Travel Market (WTM). The event was held at the ExCel London Exhibition and Conference Centre between 4-7 November, and a total of 69 Thai tourism companies took park, which is higher than in previous years.
The WTM is a global travel industry event that seeks to improve networking between industry professionals, with a view to developing tourism trade deals, business opportunities and the sharing of business intelligence. Indeed, statistics indicate that WTM 2012 generated approximately £1,859 million worth of business between its international participants.
In line with its 2014 marketing plan, TAT's pavilion focussed on Thailand as the ideal destination for a wedding or honeymoon, and TAT employed the theme 'World Event: Romantic Thailand' as part of their branding for the event. Thailand is already popular with honeymooners, and it is becoming increasingly popular with couples seeking a special destination in which to hold their wedding ceremony. In fact, following a survey carried out by TAT between April 2012 and March 2013, it came to light that weddings and honeymoons generated 1,043,684 trips to Thailand and produced estimated earnings of 34.62 billion Baht for the Thai economy. Clearly, these are impressive figures, and it seems only natural for TAT to concentrate on this type of tourism as a niche market.
Thailand has already won a number of awards that have recognised its potential and creativity in providing wedding venues. These include 'The Most Popular Wedding Destination Award 2012', from the Hospitality India and Explore the World Magazines, together with 'The Best Wedding Destination Award 2012' conferred by the Travel and Leisure Magazine. Such recognition is not surprising, as couples have so much freedom in Thailand to choose a style of wedding ceremony and venue that suits them. Indeed, many couples choose to hold their wedding ceremony on a beach, and Thailand has an abundance of stunning beaches to choose from.
Krabi Riviera Co Ltd is so committed to supporting TAT's success in events such as the WMT due to the company's own significant input into the success of the tourism industry in Southern Thailand. In fact, one of the company's luxury holiday villas is known as The Beach House, and this property enjoys a superb beachfront location. The villa's small, private beach would be an ideal location for an intimate wedding, and the stunning villa would provide the perfect venue for the wedding reception afterwards.
Thailand has so much to offer those couples seeking a special venue in which to hold one of life's most important events. Clearly, with its natural beauty and diverse culture, the beautiful Kingdom of Thailand is fast becoming the most obvious choice.

Written by: Pierre Yves Loriers
---