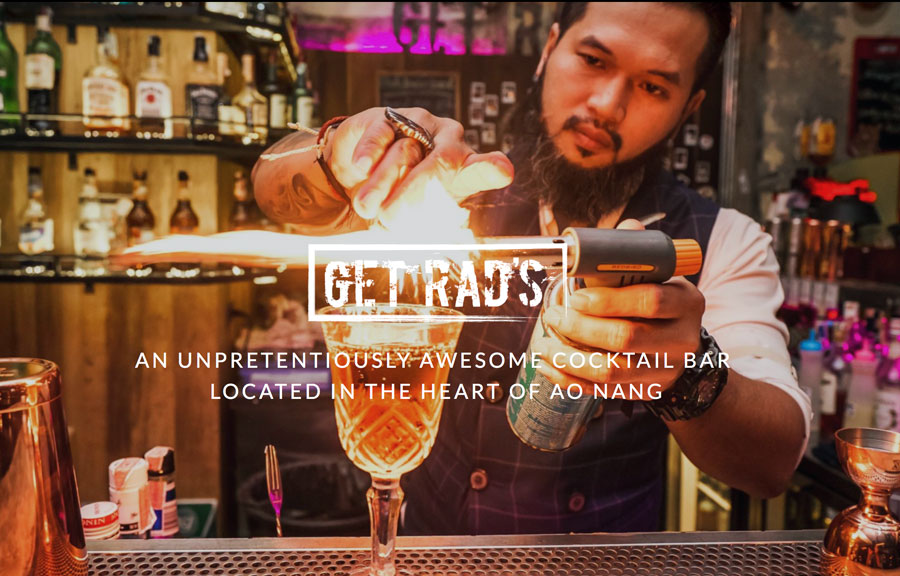 Best Bars in Ao Nang
Let's entertain the following pleasant thought for a moment: Your kids are exhausted after a day out on the beach and want to go to bed early. You, however, still have enough energy left to stroll through the main street of Ao Nang and to grab a couple of adult beverages. This is your chance to enjoy the beaches, the live bands, and the bustling nightlife of this charming beach town.
There is no shortage of great bars in Ao Nang, but for you, we narrowed it down to three distinctly different places. All of them offer a mixture of excellent drinks and either a relaxed or lively atmosphere. Whether the sun is out or the stars are up, there is always something happening in Ao Nang.
Boogie Bar
Boogie Bar is a well-established institution in Ao Nang and has pleased both locals and tourists for many years. It lives from its vibrant atmosphere and you will hear the music from the live band long before you enter the bar. Besides the party area of Center Point, this is the best place in Ao Nang for dancing the night away with perhaps one too many beers or cocktails.
The bar area is rather large with enough chairs to simply relax and listen to all the classic pop songs everyone knows and loves. We certainly won't hold it against you if you don't feel like taking over the dance floor. But like many other bars, Boogie Bar has a pool table where you can challenge one of the locals. They are always up for a game and, accordingly, they are a tough nut to crack. But what better way to enjoy a fun night than by making friends over a beer and a game of pool?
Strawberry Moons Krabi
We could not write a list of bars without mentioning at least one that is located right at the beach. There are many to choose from, but we think that Strawberry Moons Krabi at Nopparat Thara beach offers the right combination of beautiful scenery, serene atmosphere, and great cocktails. They also make some delicious fruit shakes and juices, if you want to take it slow with the alcoholic drinks.
Strawberry's offers a small selection of meals and snacks as well, but for a proper dinner, we would recommend heading to one of the restaurants we mentioned in a previous post. The best time to visit is at around 6 pm, so you can grab a good place to enjoy the sunset over the Andaman Sea. It is no overstatement to say that the beauty of the colors and the surroundings can appear quite surreal. It's the perfect way to cap off a special day and particularly your holiday.
Get Rad's
There are cocktail bars and then there are mixology bars. Get Rad's, with its laid-back atmosphere, belongs in the latter category. In case you are unfamiliar with the term 'mixology', it essentially takes the quality of a cocktail to a whole new level. The skill, concentration, and attention to detail that is required from the mixologist are unparalleled and every drink is a work of art.
At Get Rad's you can stick with the old-fashioned cocktails such as Bloody Mary, Mojito or Piña Colada, and be surprised by how well crafted a classic can be. On the other hand, we encourage you to try out one of their very own creations like the White Beard, Thai Moses or Mully Bear.
Regardless of your decision, the team of Get Rad's is made of true masters and they know precisely what they are doing. In the end, there is a reason why they hold the Number 1 spot in the 'Nightlife' category according to TripAdvisor.
---