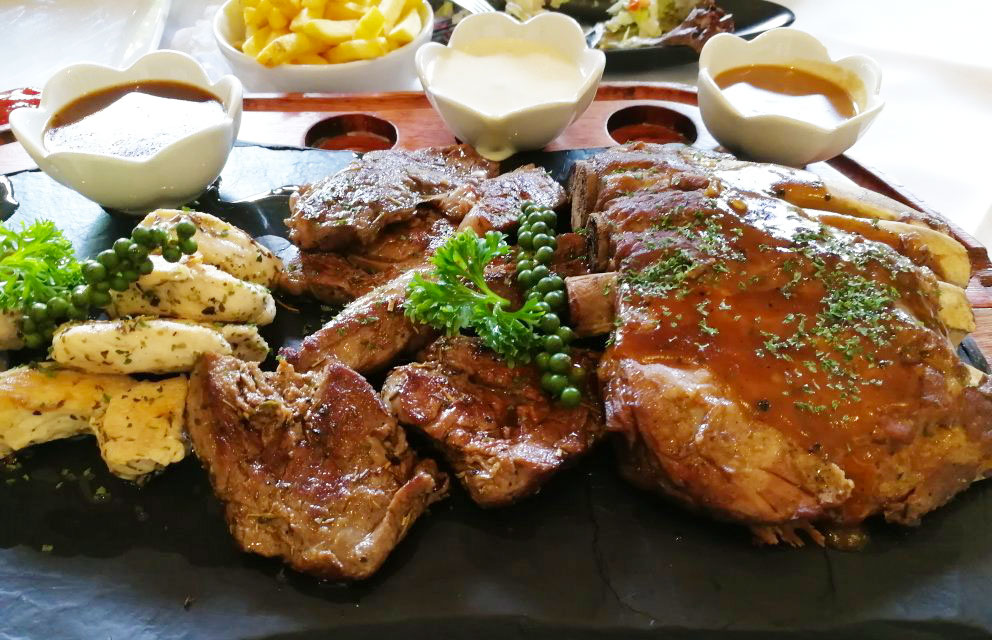 Best Restaurants in Ao Nang
Amp & Aing
In our last post, we recommended the immensely popular Jungle Kitchen. But due to its popularity, it is difficult to get a table unless you made a reservation in advance. However, there is no reason to be disappointed if you weren't able to secure one. Just across the road is a lesser-known gem of a Thai restaurant that is just as authentic as it is good. Amp & Aing is run by a small family with the friendly and attentive Dow acting as both the waitress and head cook. The restaurant itself is stripped down to the basics and has the appearance of a local Thai eatery.
But don't get the wrong impression by the cheap wooden tables and plastic chairs! The food is delicious and the menu broad enough to please everyone's taste for Thai food. From green curry and fried yellow noodles to tom yum soup and fried rice with crispy pork, almost the entirety of the traditional cuisine can be found in Amp & Aing. The best thing, though, is the price. You would be hard-pressed to spend more than 200 Baht per person for a full meal and one or two beverages. The low price certainly is not to the detriment of the quality.
Opening times: 9 am – 10 pm (Daily)
Address: 238 4203, Tambon Ao Nang, Amphoe Mueang Krabi, Chang Wat Krabi 81000
Lae Lay Grill
From the affordable and down-to-earth Thai restaurant, we move to Lae Lay Grill, which is lofty in both price and location. Situated on top of a hill overlooking Nopparat Thara beach, this high-class restaurant with an extravagant décor serves the most exquisite seafood in Ao Nang. This says quite a lot because thanks to the brimming marine life in the Andaman Sea, there are dozens of specialized restaurants, particularly around the beach area.
What makes the Lae Lay Grill restaurant such a standout is not only the access to the freshest seafood but the meticulous and professional care with which the chefs prepare their food. Expect your deep fried sea bass, baked lobster, grilled quid or curried mussels to be of the highest quality. Speaking of 'highest', if you really want to make the best out of your visit at Lae Lay Grill, we recommend making a reservation far in advance in order to secure a table on the patio. We guarantee you that catching the last rays of the sun from a hilltop enhances your dining experience significantly.
Due to the advantageous location and the high-quality seafood, the prices are, indeed, higher, but for a special night out with your family, it is well worth it. They even offer a free pick up service for guests staying in Ao Nang.
Opening times: 11 am – 10 pm (Daily)
Address: 89 Moo 3, Ao Nang, Muang Krabi, 81000
Carnivore Steak & Grill:
There are a handful of renowned steak houses or restaurants serving quality steaks in Ao Nang. We chose Carnivore partly because of its longstanding tradition of grilling the best meats since 2003 and partly because of the secluded location a minute away from the main road. Similar to Lae Lay Grill, the prices in the steakhouse are in the upper range. However, we can say with certainty that for such great quality you would pay a lot more in a Western country.
The meat-heavy menu consists of savory meals like the pepper steak, the "Carnivore" steak wrapped up in slices of bacon, or the "Carnivore" mixed grill which is a selection of the finest beef tenderloin, rib-eye, and lamb filet. All dishes come with a proper salad and a side dish of your choice such as French fries, corn cobs, grilled potatoes, or baked potato with butter. The portion sizes are large enough to fill a grown man's empty stomach, so make sure to come with a hearty appetite.
Everything is made with the best of ingredients and what better way to enjoy such a meal than by having a cold pint of beer? Carnivore Steak & Grill has the regular selection of Thai beer as well as a wide variety of imported beers from Belgium, Germany, and Australia amongst others.
Without a single doubt, meat is King here at Carnivore Steak & Grill.
Opening times: 12:30 pm – 10 pm
Address: 127 Khlong Hang Rd, Tambon Ao Nang, อำเภอ เมืองกระบี่ Chang Wat Krabi 81000
---