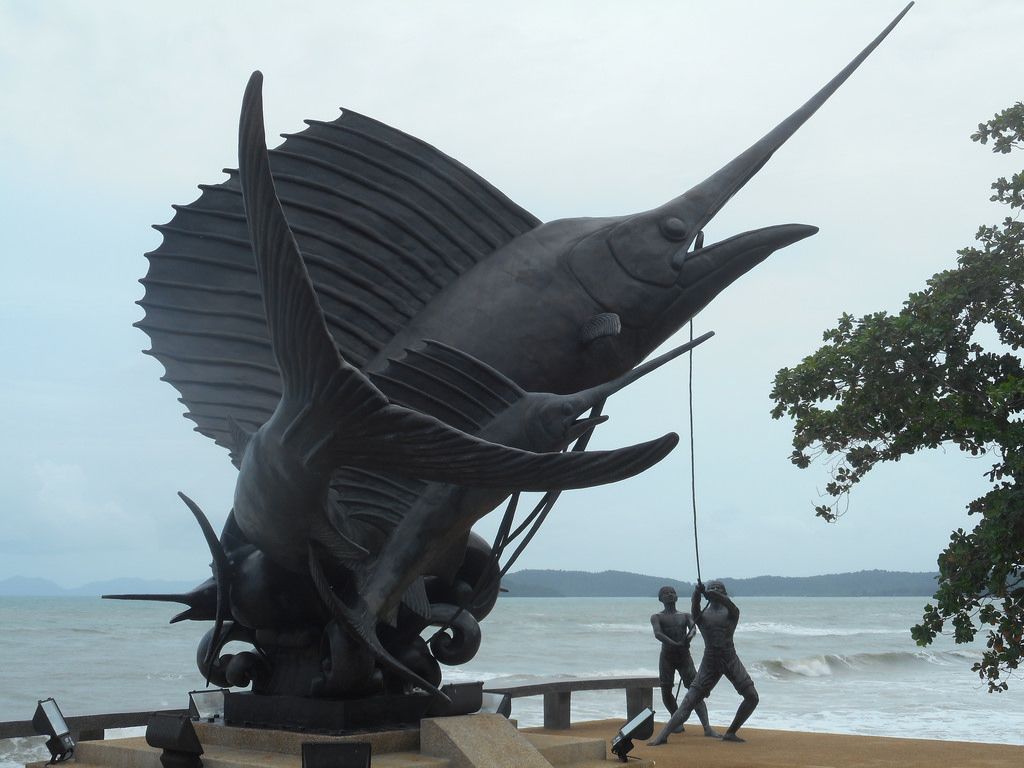 Fishing in Ao Nang & Krabi
On some days you simply don't feel like doing anything. Sometimes all you want to do is to just sit on a boat and to enjoy the warm weather with a cool breeze and a cooler filled with cold ones. The only physical activity you can imagine doing is opening a beer can and casting a fishing line into the deep blue sea. The Italians call it "dolce far niente" or "pleasantly doing nothing". If this happens to be a daydream of yours, then we are happy to help you bring this dream into reality.
Fishing Tours
The Andaman Sea is home to numerous kinds of fish, and tour agencies take full advantage of this abundance. On such a tour you will be guided by local experts and fishers. They will teach you everything you need to know if you are unfamiliar with a rod or even if you already have some prior experience. Due to their extensive knowledge of the waters, the guides will bring you to the spots with the highest chance of you catching one or multiple fish. Mackerel, grouper, and barracuda are among the most commonly found. Fishing is still an activity that requires a certain degree of patience, but we are certain that you won't be bored out of your mind. It will only be a matter of time until the rod starts twitching with a barracuda on your hook. During your downtime, you still have the gorgeous surroundings of Southern Thailand that will keep you and your camera busy.
A great bonus is also the fact that you can keep your catch of the day and have it prepared by one of the many beachfront restaurants. A freshly caught fish always tastes incredible, but one that you caught yourself tastes even better.
Gillham's Fishing Resort
In case you are not too eager to go out on a boat but prefer to stay on land and cast your line into a lake, then Gillham's Fishing Resort (~30 minutes away from Krabi) is a viable option. It is a highly renowned resort, led by a professional angler from England. Here you can rent lakeside bungalows for you and your family, and spend the time fishing to your heart's content. All the while enjoying the amenities a high-class resort could offer including cooking classes, a luxury spa, a restaurant and a large infinity swimming pool plus a gym.
The 12-acre lake is home to some real heavyweight aquatic creatures. Most of the 52 different species weigh less than 100lb (~ 45kg), but other "monsters" like the arapaima can be over 520lb (~236kg)! Don't be frightened by the sheer size and weight of those fish, since you will have professional staff around that can help you at any time. Most of the time, though, you can simply enjoy your stay here in the manner we described at the very beginning. So, whether or not you are an avid angler or an up-and-coming one, you won't have to leave the resort once if you are content with this serene atmosphere.
Wrap Up
As you can see, there are plenty of options for the eager angler or for the ones who are just curious. You can combine an Island Tour with some fishing or stay put in a resort to catch some fish. It is without a doubt a fun and relaxing activity that also takes care of lunch and/or dinner. The only thing that's missing is a couple of cold ones.
---