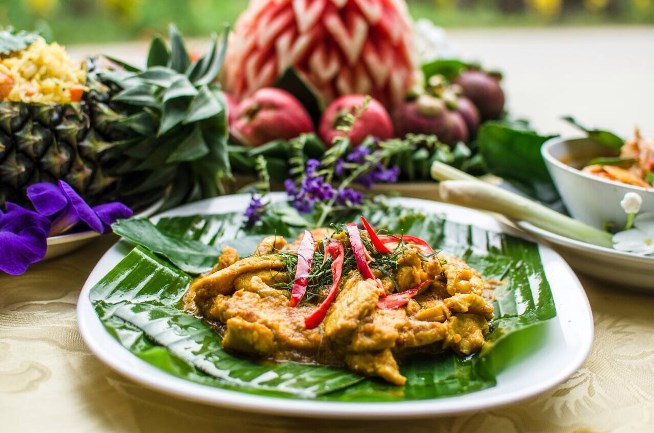 Ya's Cookery School in Ao Nang, Krabi
We have written in great lengths about our love and reverence for Thai food. It may have been influenced by a great number of different cultures, but nowadays it counts among the most popular cuisines in the world. The Thais obviously know that and, therefore, try to capitalize on this reputation with cooking classes. You won't be able to visit a city or town in Thailand without finding at least a dozen of those classes. Krabi is no different in this regard.
If you are as enamored with the Thai cuisine as everyone else, then such a cooking class (or even multiple classes) is the perfect addition to your food experience. Besides being a great activity for your whole family, you can often take a recipe book with you and enjoy your own Thai once you go back. In our globalized world, it is fairly easy to purchase all the necessary ingredients needed for Asian food. So, in order to impress your friends and family back home, we will tell you all about the one and only cooking school we think you should visit in Ao Nang – Ya's Krabi Cookery School.
About Ya and Her Cookery School
Cholaya Loathing (simply known as Ya) has been teaching lessons in Ao Nang since 2000. Prior to her school, she was working for prestigious hotels and restaurants in Thailand, Luxembourg, and Indonesia. She now uses her extensive knowledge to teach food lovers from all over the world. The most famous students might be chef cook and TV personality Gordon Ramsay, who learned from her how to make Tom Yum soup, curries, and dipping sauces. If that isn't a compelling reason to apply for this cooking class, we don't know what is.
About the Programs
Ya's Cooking School offers four different programs and each program focuses on different Thai dishes. For example, in Program A you get to prepare a classic Pad Thai, a Red and Yellow Curry, whereas in Program B you will learn everything about Panang Curries, Stir Fried Morning Glory amongst others. All courses cost 1500 Baht, except Program C which only costs 1200 Baht. There is even a 3 Day Cooking Course available for the more serious food enthusiasts.
Before you get to the "bang bang" and "chop chop" part, as Ya and her team always say, you will be introduced to the various ingredients like vegetables, fruits, and spices. This is a great way to show you and your family exactly what you are going to use and what it brings to each dish. The cooking classes start either early in the morning or in the afternoon, and they last for about four hours. It should be a given that you will not only learn and cook but also eat. You usually end up cooking more than you can eat, in which case you are more than welcome to take all the leftovers with you. If you bring your kids along, then this might be the main incentive to convince them for such a class. The dishes can also be altered so that they won't be too spicy, which is probably the best for younger children.
After The Lessons
As we mentioned in the introduction, you will receive a recipe and instruction book for the dishes you prepared. In addition, you can buy one of their very own aprons as well in order to show your full support for Ya's Cookery School. Again, this is by far the best activity for your whole family to learn something about Thailand's culture and cuisine, all the while having fun and eating to your heart's content.
---