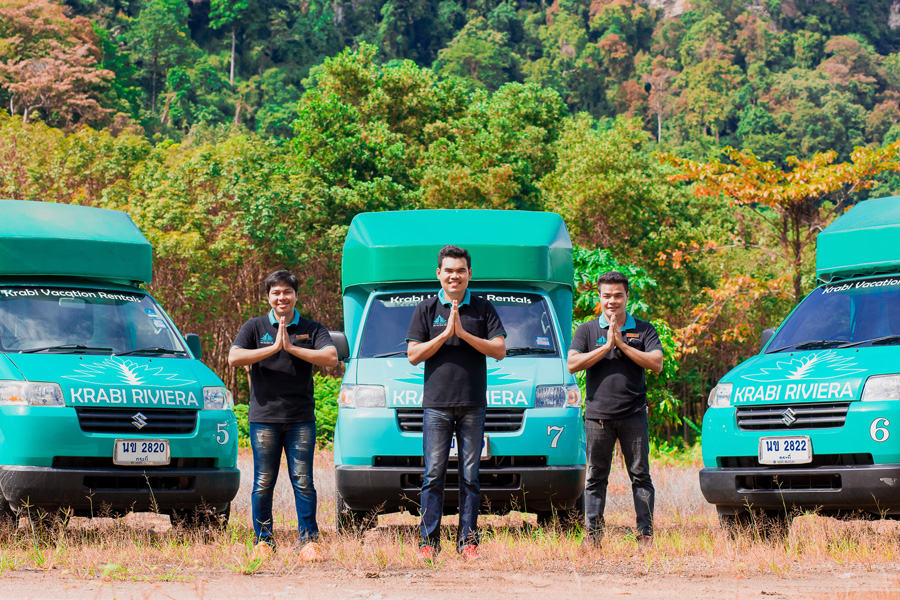 Getting to Krabi and How to Get Around
Arriving in Bangkok
Once you have decided to come to Thailand, your first stop will be Bangkok. Going from the capital to Krabi takes only a little longer than an hour via plane. You might have to switch the airport, if you immediately want to travel to the South of Thailand. All of the international flights land in Bangkoks Suvarnabhumi Airport (BKK), whereas the domestic flights or the shorter flights within South East Asia happen from within the compounds of the Don Muang Airport (DMK). The transport from one airport to the other is fairly simple, since they offer a free shuttle bus ride that runs either every 12 or 30 minutes, depending on the time you arrive. The trip takes about an hour, during which you can get a small glimpse of Bangkok's unique charm, since Suvarnabhumi lies in the Southern and Don Muang in the Northern part of Thailands capital. The platform of the shuttle busses are outside 2nd Floor Terminal, Gate 3 in Suvarnabhumi, and 4th Floor Terminal, Gate 5 in Don Muang. Make sure you have your boarding pass on you, which proves that you have a flight booked from the respective airport.
Or if you want to cut down the time and don't mind spending your first Baht (the currency in Thailand) you can also easily get a Taxi. It usually costs around 400 – 500 Baht (between 12 – 15 US-Dollars). Check out Krabi Riviera Tuk-Tuk service within Ao Nang.
From Krabi Airport to Krabi/Ao Nang
Once you've landed in the small Krabi International Airport (KBV), it shouldn't take a long time to reach your final destination. With a Taxi it takes about 15-20 minutes to get to Krabi Town and 30 minutes to the beach town of Ao Nang. Once you are all settled in your hotel or villa, you can easily explore the area right away. Either you choose to stretch your legs a little and go for a walk after a long flight or you can pick a Tuk Tuk – a true Thai experience. A ride with a Tuk Tuk is cheap, so it's easy to get around the near-by Krabi area without breaking the bank. Unless you want to travel between Krabi and Ao Nang, then we would recommend taking a Taxi, because it isn't that expensive (around 400 – 500 Baht) and it cuts down the travel time significantly. A Taxi also provides a more comfortable journey than a Tuk Tuk.
But if there is a major reason for coming to Thailand, then it's for the beautiful beaches and Ao Nang has access to multiple ones. You may have heard of the most popular one, which would be Railay Beach. In order to get there you have to get a longtail boat from Ao Nang Beach, which costs 100 Baht per person one way. There are no roads leading to Railay, Tonsai or Phranang beach, so you have to hop onto a longtail boat. It only takes about 15 minutes. Also important to know is that the last boats back to Ao Nang Beach usually leave around 5:30 – 6pm, so make sure to be back by then. Otherwise you might get stuck on one of the beaches or you would have to pay a lot more to a boat driver to get back.
---