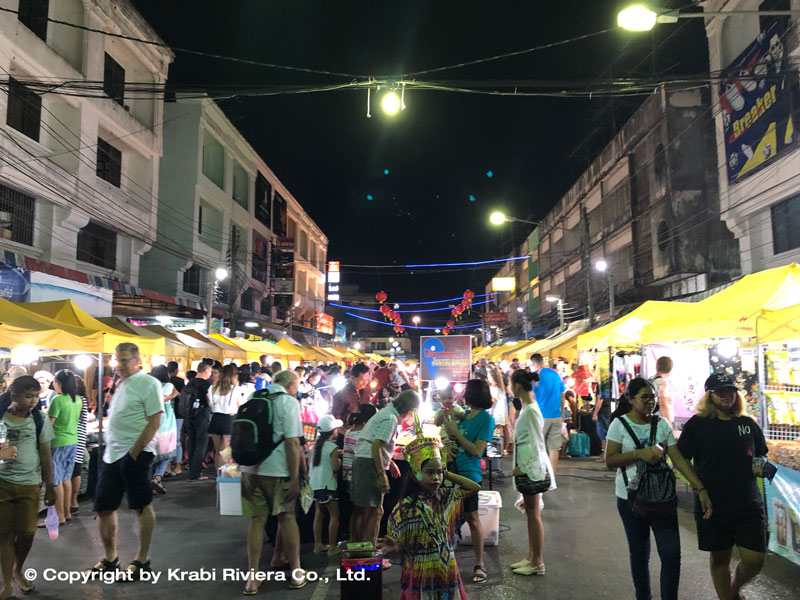 Food Markets in Krabi Town
If you are craving some authentic food after our post about the Thai cuisine, then we highly recommend visiting one of the markets in Krabi Town. Restaurants are great to get some delicious Thai dishes, but the street food scene in Thailand is so famous for a reason. You would be severely missing out by not giving it a try. In this blog post, we want to highlight some of the most popular food markets in Krabi.
Chao Fa Pier Food Market
Located next to the riverside, this daily food market is one you don't want to miss. The setup is very simple with scooters and sidecars acting as kitchens and counters, and the tables and chairs are made out of plastic. The food, on the other hand, is masterful. We highly recommend trying different seafood and fish dishes, since the south of Thailand is famous for those. But you can still find a great variety here, in case your kids are not big fans of seafood. They may be happier with fruit shakes, rotis, fried bananas, and mango with sticky rice. Of course, other traditional Thai dishes like massaman curry and pad thai can be found here as well. They even have some Chinese and Muslim food stalls, if you want to branch out a little more.
When it comes to food markets in Krabi, it can't any more local and authentic than here. Just make sure to bring enough mosquito repellent with you! As we mentioned, the market is right next to the river and mosquitoes are known to be particularly pesky in the late afternoon and evening.
Opening times: 5 pm – 12:30 am (Daily)
Address: Chao Fah Pier on Kong Ka road
City Market (aka Night Market)
Let's continue with the most famous market right in the heart of Krabi Town. Just like the food market at the Chao Fa pier, you can eat your way through numerous food stalls here as well. The city market opens a little earlier, so we would recommend eating a little less for breakfast, so you can fully indulge all the different specialties.
This does not only include the cooked meals, but also the astonishing selection of fresh fruits. Thailand is known to have one of the widest assortments of fruits in the world. Many of them are virtually unknown in our western world, so we encourage you to try out as many as you can. Who knows? Maybe you even find your new favorite fruit! With delicious and tasty treats such as mangosteen, mango, rambutan, and longan, we wouldn't be surprised.
If your little ones are running a little low on energy, give them a fresh coconut! It is a natural powerhouse filled with all the essential nutrients you need to regain your strength. For the price of 25-30 Baht, there is nothing you can wrong.
Opening times: 2 pm – 8 pm (Daily)
Address: Sukhom Road (between Uttarakit Road and Maharaj Road)
Krabi Town Walking Street (Thanon Khon Dern)
This market is a little different than the other two. For one, it is centered around a stage where you can enjoy karaoke shows, traditional dances by school children and musical performances by local artists. We recommend grabbing some food from the nearby food stalls and then sit around a table to enjoy the events. It is also the best place in the Krabi province to take some local culture with you in the form of handcrafted jewelry, shoes, clothes and a variety of souvenirs. The craftsmanship is incredible and the prices are affordable.
It is possible to book a so-called "City Tour", which includes the walking street amongst other popular spots. They usually cost around 350 Baht and a Thai local will guide you through the countless stalls in order to make sure that you have the best possible experience.
Regardless of whether you join a tour group or visit the weekend market on your own, it certainly should be high on your itinerary.
Opening times: 5 pm – 10 pm (Friday – Sunday)
Address: Soi Maharaj 8 (behind the Vogue department store)
---